Most widgets are filterable. This means you can filter the data displayed in a widget according to choices made using the date picker or select box widgets. You can also set custom values that you want use as a filter for other widgets.
You can create, edit and view filters by accessing them in the sidebar of the widget you're filtering. If your widget is one that can have multiple series (such as a time series chart or categorical chart), look at each series to find the filters for that particular data. The tile widget displays only one value, so you can set up the filters for a tile widget using the Tile Value part of the tile sidebar.
When you're using the periodisation diagram widget, you can set filters for tracks that display event form data (not for custom tracks). Each event track has its own data source so the filters are set on a track-by-track basis. However, the filter you set for each track will be applied to all fields that are used as lanes within the track.
If you are using the aggregation table widget, keep in mind that it is possible to filter the data sources used to create categories (contained in the first column) and each column separately. You are also able to copy the filters from one part of the aggregation table, such as the category data source, to another part of the aggregation table, such as a column.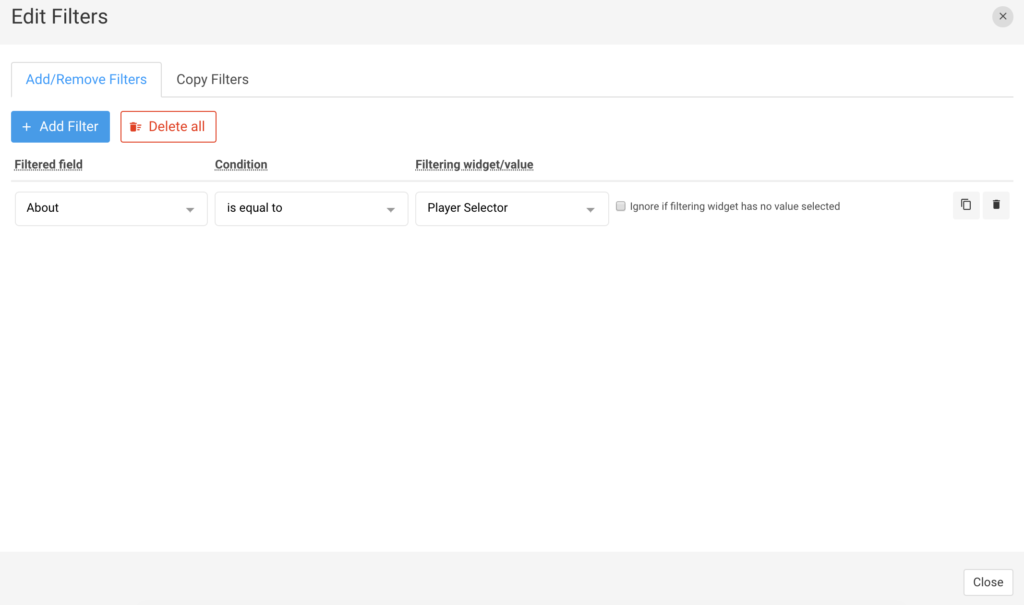 Each filter you add to a chart, table, tile or diagram widget uses these settings:
Filtered field: this is a column within the data source used by the widget. Note that the filtered field can be different to the data being displayed.
Condition: the option you choose here depends on what data type your filtered field is. If your field's data type is Date, then you should choose a condition that relates to whether the filtering widget/value is before, after or the same date. When the data type is Number, you should choose a condition that relates to whether the filtering widget/value is less than, greater than or equal to the value of your filtered field. The conditions you can choose for the String data type would be whether the filtering widget/value contains, or is/isn't equal to, the string in the filtered field.
Filtering widget/value:  Choose:

Another widget in the dashboard. Any selection you make using a filtering widget will affect the data you see in your widget.

Custom values. If you want to use specific values to filter this widget, you can input them manually using this option. If you do this, ensure that you press Enter ↵ to lock in each custom value.

Ignore if filtering widget has no value selected: this is a tick box. If you want your filtering widget to have no effect when it hasn't been used, you can tick this box. The effect is that you will see all data displayed in the widget instead of no data. If left unticked, the widget won't display data until the filtering widget is used.
Was this page helpful?
Let us know if this content is useful for you. We're always looking for ways to improve our support.