Canvases act as the pages of a dashboard. Depending on the contents and purpose of the dashboard, it may have one or many canvases. Along with the setup of the dashboard's sections, canvases help reduce the amount of scrolling required to see the data, as well as grouping relevant information together. The value of the dashboard to a reader is reduced if they need to scroll to view all the content.
In the sidebar
General: use the general properties of the canvas to add a title to your canvas. You can choose to show the title on the canvas itself, or hide it so it only displays in the list of canvases at the top of the dashboard. You can customise each canvas with an icon (and icon colour), background colour, title text colour and subtitle text colour. You can also adjust the size and alignment of the title and subtitle in the canvas.
Instructions: similar to the content widget, the instructions property allows you to add text and images that are not captured in an event form. You can adjust the text size, style, colour and alignment as well as add bullet points or numbered lists. To supplement your written content, add links, tables, images, block quotes and horizontal rules.
Logo: if you have a logo image that you'd like to use to customise the canvas further, you can use the logo setting of each canvas to add a logo. The logo can be different for each canvas, and will appear to the left of the canvas title and icon. These logos must be stored in the main application as a Smartabase resource. Remember that anyone viewing the dashboard will need the data permission to the category assigned to the logo image resource.
Canvas tabs 

Tabs are displayed along the top of a canvas and represent the canvases in your dashboard. You can click on a tab to open the corresponding canvas. This is useful when navigating between canvases in your dashboard. 
The text in a tab reflects the text entered in the title field of a canvas. The colour of the text in the tab will also inherit the colour applied to the title in that canvas. This makes it easier to locate a particular canvas.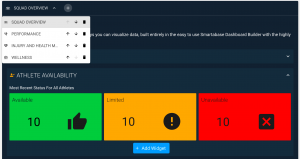 Tabs will also collapse into a single drop-down menu if there are too many to fit within the width of your screen. You can select the canvas you want to view from this drop-down menu and arrange the order they appear here.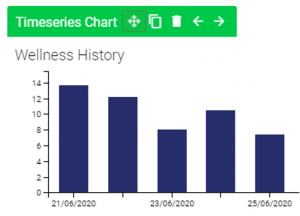 Unlike sections and widgets, canvases themselves cannot be duplicated. However, sections and widgets can be moved across canvases using the 4-way arrow icon, which you will see when that section or widget is selected.
Was this page helpful?
Let us know if this content is useful for you. We're always looking for ways to improve our support.