Grouping is a defining feature of Smartabase and allows for users to be classed together for data entry, viewing data, reporting and planning purposes. Users can be grouped, for example, by sporting discipline, class, year, age, gender, or team. The names, members and properties of the groups that are used on a Smartabase site are determined by a site administrator or, to a limited extent, a group administrator (with the exception of personal groups) according to organisational requirements.
The group environment that you are currently part of determines how you can use Smartabase. This is because you can only view or edit data relating to yourself (if you are a member of the current group) or members of the current group (if you are a professional user), although it is possible to be both a member and have professional user access to the same group. You cannot view or edit information about anything outside of the group environment you are currently operating within. To do so, you must navigate to a different group.
If you are a professional user, you will have access to groups of athletes without necessarily being a member of these groups. This means that you can edit and view information about users within that group. It is also possible to enter data for a group of users at the same time. For example, if all users in a group need to have the same data about them updated, you can do this in group data entry mode. Any subgroups will also be accessible if you have access to their parent group.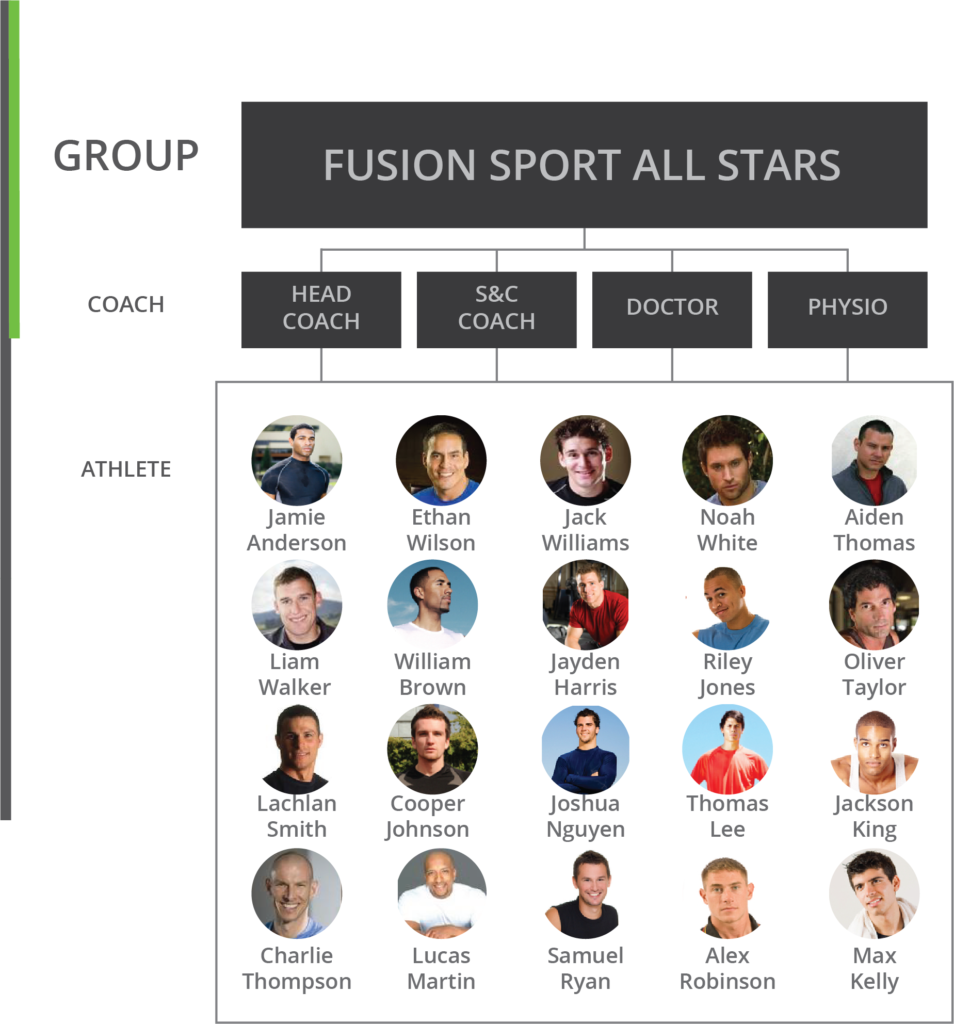 Grouping is generally organised in the same way as an organisation's structure. This can be hierarchical or flat. A hierarchical organisation is structured like a pyramid, with users having access to more groups when they are higher up the pyramid. The effect of this is that every user, except one, is subordinate to at least one other. The largest groups of users are located at the base of the pyramid. The advantage of this type of organisation is that it is clear who is responsible for who; disadvantages include difficulty communicating across groups.
Flat grouping structures do not have as many levels as hierarchical structures. This means that groups are split less often and many users are subordinate to a few users. This type of organisation improves communication between groups and allows for simpler decision making, as more responsibility is held by fewer people. Disadvantages include lack of specificity and impediments to growth.
Generally speaking, Smartabase sites are suited to hierarchical grouping structures; however, organisational requirements often mean that these grouping structures can become complex. Understanding the grouping structure used by your organisation can improve your user experience with Smartabase and allow you to communicate this knowledge to other users.
EXAMPLE: A THEORETICAL GROUPING STRUCTURE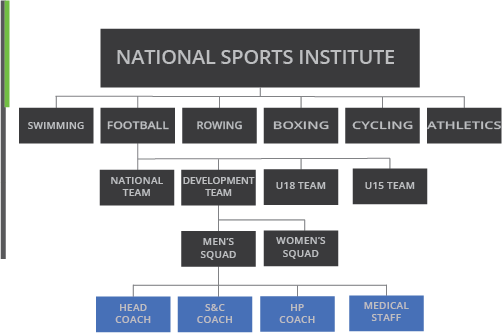 This is an example of a possible grouping structure in Smartabase. In this simplified example, you can see that the grouping structure generally follows the organisational structure. Note that users can be part of more than one group – they can belong to a group and any of its subgroups or they can belong to a sister group. In this example, the head coach, strength and conditioning coach, high performance coach and medical staff are coaches (professional users) of the men's squad in the development team. They could also be coaches of the women's squad (not shown). Anyone who is a coach at a higher level than the men's squad will have access to any subgroups.
HOW TO: CHANGE GROUPS
WORKFLOW 1: CURRENT GROUP LIST LINK
Locate the name of the current group environment you are operating within at the right-hand side of the navigation bar at the top of the page

Select the name of the group you want to use

Click the Preview or Load button
WORKFLOW 2: GROUPS BUTTON
Locate and click the

Groups

button on your home page

Select the name of the group you want to use

Click the Preview or Load button
WORKFLOW 3: GROUPS TAB
Locate and click the Groups tab at the top of your home page

Select the name of the group you want to use

Click the Preview or Load button