SERIES INFORMATION
The Smartspeed PT series contains the following articles.
Welcome to Smartspeed PT
Welcome and thank you for purchasing Smartspeed PT. This system has been designed to offer simple and accurate single lane timing. For purchasing information about PT accessories or other Smartspeed system versions, please visit our main website, www.fusionsport.com.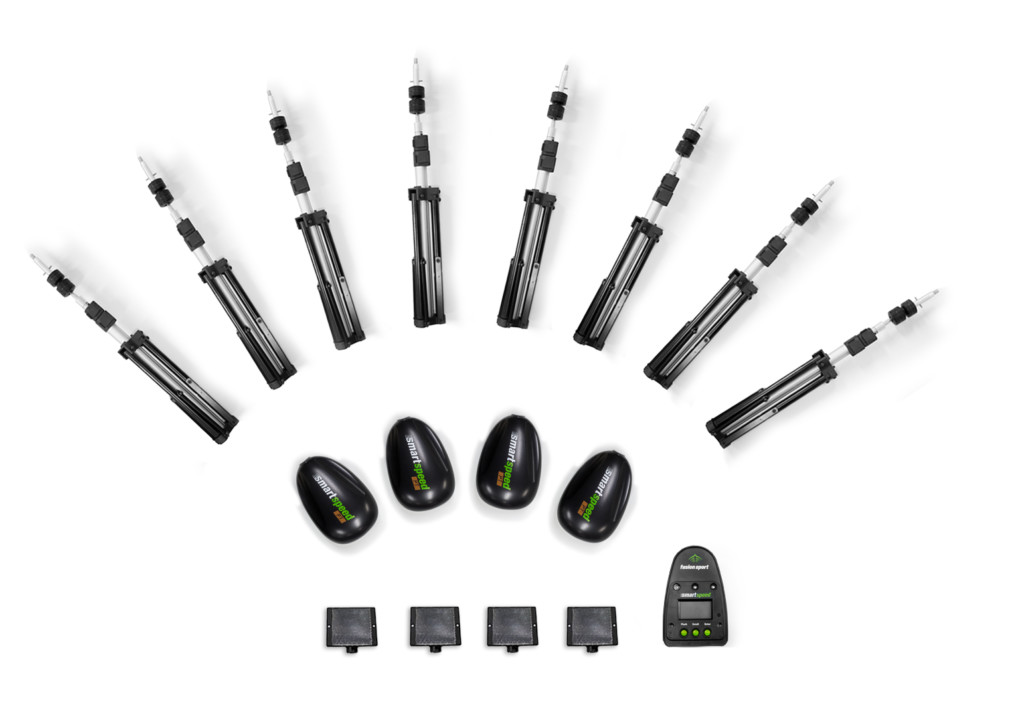 How Does Smartspeed PT Work?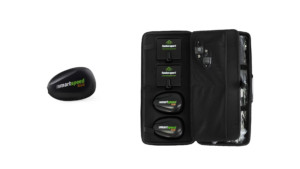 Each Smartspeed PT gate contains two in-built radio devices: one for communicating between the gates (using a technology known as Zigbee) and one for communicating between the master gate and your mobile device (Bluetooth).
You will set up one of your PT units to be the master gate, which will connect via Bluetooth to your mobile device. This gate will then command your other gates during the session. The master gate must have its ID set to 0 to enable the Bluetooth module.
It is very important that you always place your master gate close to where you will be standing to run the session, as the range of the Bluetooth connection is between 10 – 20m (depending on your device). The master gate can be any of the gates; it does not have to be at the start or finish.
Don't worry! If you walk out of range, the gates will still collect the data for the current athlete, and your mobile device will give you a warning message. Once you walk back into range, the results will show up on your device, and the next person will be able to start. 

Once you set up and align your units, a beam will be created between the timing unit and the reflector. We call this a timing gate. When someone passes through this beam, we say that the gate has been broken. The first time you break the timing gate beam, the starting point (start time ) will be set and the subsequent beam breaks will then list the split times. A split time is the time between beam breaks on one or more units.
GATE TO GATE RANGE
 Up to 70m in any direction from master gate
BLUETOOTH RANGE
10-20m in any direction from master gate (depends on your mobile device)

BUTTON FUNCTIONS

SMARTSPEED ONLINE
Smartspeed Online is a free cloud hosted service available to all Smartspeed customers. It is powered by a simplified version of our industry-leading Smartabase human performance platform. You can register as many accounts as you like. For example, when you have multiple people sharing one mobile device and wish to separate your records and settings.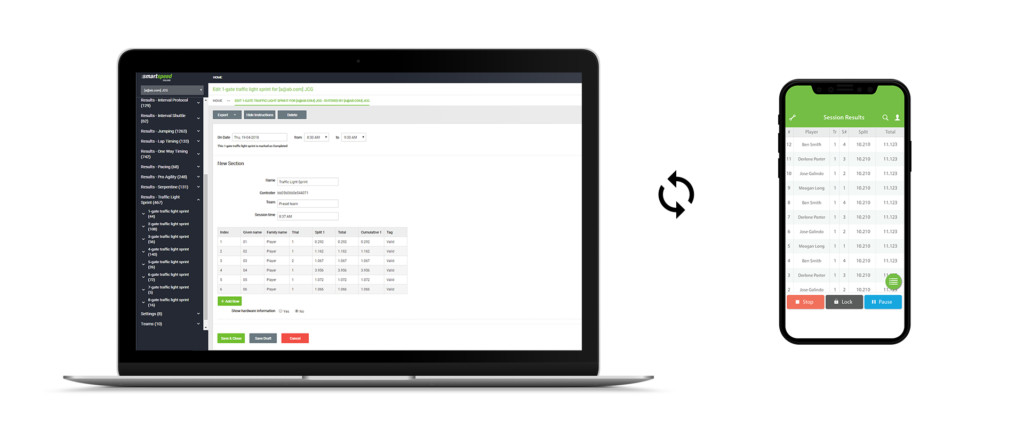 Smartspeed Online synchronizes with the Smartspeed application on your mobile device whenever you connect to the internet, and allows you to:
Create new team lists to download and use on your mobile device

View your uploaded results and export them to an Excel or a PDF file

Create pre-set drills with your preferred drill settings and names, then run these drills from your mobile device

Register your device for warranty (automatic the first time you connect)
Please register your free Smartspeed Online account by using the registration page in the mobile application. You can access the registration page by clicking Register at the Smartspeed mobile application home screen.
Learn more about Smartspeed Online here.
Was this page helpful?
Let us know if this content is useful for you. We're always looking for ways to improve our support.