EMAIL
CALL US
North America: +1 312 981 8745
Europe, Middle East and Africa: +44 (0) 7958 410 449
Asia Pacific: +61 7 3123 7124
TROUBLE SHOOTING
Bluetooth LED
Flashes green when the unit is connectable and discoverable. To make the unit discoverable, make sure it has the ID set to 0, and hold the Bluetooth button for 3 seconds. The unit will emit a triple beep and the light will flash green. The unit will remain discoverable for up to 3 minutes.

Flashes blue when the unit is set to be a master gate (ID = 0) and the unit is not yet connected to your mobile device

Turns solid blue when it is successfully connected to your Mobile device via Bluetooth.
Power LED (on back of unit)
Solid red when the unit is powered on

Off when the unit is in low power mode
Alignment LED
Solid red when the unit's photocell is aligned to the reflector

Off when the unit's photocell does not align to the reflector. If it is not aligned the unit will also make a loud buzzing sound.
Charge LED
Red on, green off –  this means the unit is very flat and will use a slow charge rate to ensure no damage to battery

Red on, green on – normal charge mode

Red off, green on – unit is fully charged
Resetting a SMARTSPEED Device
To reset the device press and hold the power button until the power LED goes green. When the LED illuminates green release the power button. The unit will reset and enter low power mode. Press the power button again to turn the unit again.
Performing a Firmware Upgrade
From time to time you may need to perform a firmware upgrade on your units, when instructed by the Fusion Sport support team.
To upgrade your Smartspeed PT firmware, please watch the following video:
Ensure you are using a PC computer.
Your firmware file will be found on our Smartspeed support page https://www.fusionsport.com/support/smartspeed/.
Please see the screenshot below for more information about accessing firmware files on our support page.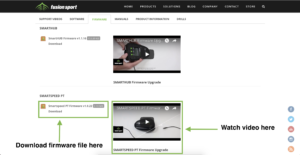 Upgrading Your Software
Please be sure to keep your mobile application up to date with the latest release for optimal user experience. We will send you an email to remind you when updates become available.
WARRANTY
Warranty Statement and Disclaimer
The Fusion Sport devices are manufactured by Parent company Grabba International at its Brisbane, Australia facility. The devices have a 12-month warranty from the date of purchase. Fusion Sport warrants and represents that all Fusion devices are free of all defects in material, workmanship and design, and have been produced and labelled in compliance with all applicable laws, regulations and ordinances pertaining to their production and labelling. This warranty is expressly limited to repair, replacement of product or refund of product price at the sole discretion of Fusion Sport. Equipment for repair must be returned to the Fusion Sport facility in Brisbane, Australia or a Fusion Sport authorised repair centre. To do this, contact Fusion Sport's service/ repair department to obtain a Return Authorisation (RA) number.
CONSEQUENTIAL DAMAGES RELATING TO DATA LOSS, SUBSEQUENT EQUIPMENT FAILURE, AND/ OR EQUIPMENT DAMAGE ETC IS EXPRESSLY EXCLUDED FROM THIS WARRANTY AND GRABBA INT. ACCEPTS NO LIABILITY FOR ANY LOSS OR DAMAGE INCURRED WHAT-SOEVER.
In the event that it is determined the equipment failure is covered under this warranty, Fusion Sport shall, at its sole discretion, repair the product or replace the product with a functionally equivalent unit and return such repaired or replaced product without charge for service or return freight, whether distributor, dealer, or retail consumer. This limited warranty does not extend to any product which, in the sole judgement of Fusion Sport, has been subjected to abuse, misuse, neglect, improper installation, accidental damage, nor any damage due to use or misuse produced from integration of the product into any mechanical, electrical or computer system. The warranty may be void if the case of the product is opened by anyone other than Grabba International's repair department or authorised repair centres.
Apple, iPhone and iPod touch are trademarks of Apple Inc., registered in the U.S. and other countries.
"Made for iPod iPhone iPad" means that an electronic accessory has been designed to connect specifically to iPod touch, iPhone and iPad respectively, and has been certified by the developer to meet Apple performance standards. Apple is not responsible for the operation of this device or its compliance with safety and regulatory standards.
To read the full warranty statement, go to http://www.fusionsport.com/support/product-information/warranty-statement.